Through the early stages of the World Cup 2014 in Brazil, Guts.com offered some great bonuses.
This time around, we'll be introducing you to the bonus event that Guts.com has for 23-26 June.
They are offering 1000 euros to the winners of the combibet – the final winner receiving 400 euros and 9 runners up receiving the rest of the prize pool.
To be eligible for this competition you must:
1. Bet a combibet that includes a match between 23-26 of June and you can also include other sports as well. However, you must bet before 27th of June 3:00 CET (Central European Time).
2. The bet has to be a minimum of 1 euro to be valid for entry.
3. 10 winners will be chosen and winners will be announced on Guts.com on June 27th at 14:00 CET (Central European Time).
The winners will receive:
1st place: 400 euros
2nd place: 200 euros
3rd place: 150 euros
4th place: 100 euros
5th place: 50 euros
6-10th place: 20 euros each.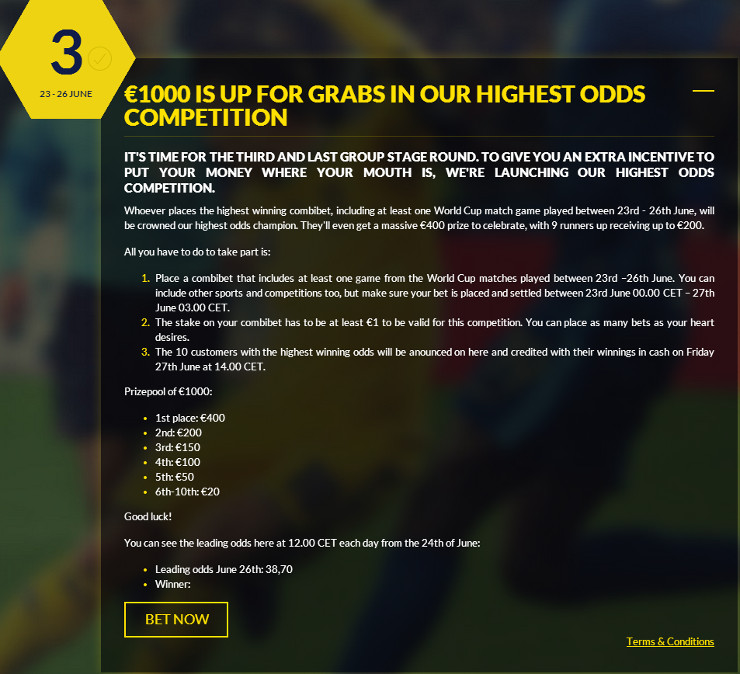 You may also check on the leading odds on Guts.com each day. For the day of June 26, it is 38,70.
The winners have not been announced yet so make sure to place a minimum of 1 euro bet on the combibet on Guts.com sports!