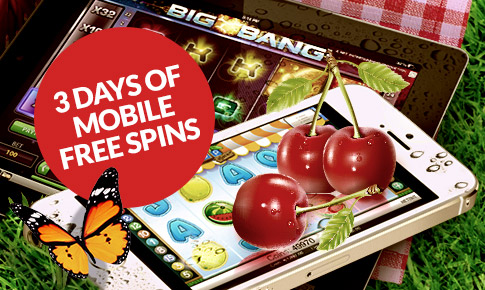 Starting today, Guts.com will start handing out free spins to mobile users. The 3 days of mobile free spins allows players to receive 15 free spins per day with a maximum amount of 25 free spins.
If you have already deposited money at Guts.com since the beginning of June, you will receive 10 free spins each day! That's 30 free spins total.
If you want an additional 15 free spins per day, all you have to do is make a deposit of 20 euros or the equivalent in dollars/pounds/krones. Make sure you deposit the amount today to get the free spins tomorrow. All you have to do is deposit some money and collect your free spins at the rate of 15 per day. You may use the free spins on Big Bang, Twin Spin or Fruit Shop.
If you've been a local customer of Guts.com, they are giving you 10 free spins per day in addition to the 15 free spins you will receive for depositing for the next 3 days. That's a total of 25 free spins per day – a huge sum of 75 free spins in just 3 days.
Guts.com loves their customers so they made their casino games available on mobile devices as well. There are over 128 casino games at Guts.com that are compatible on mobile.