Some of you players might have known that Casumo casino has recently gone through a major make-over.
These changes are now in effect as of today, 12 August, 2014.
There are new features, user-interface changes, more trophies and achievements and some great functions to make your stay at Casumo more pleasant.
So, without further ado, let's go over the details:
Casumo Casino Website
First off, they made a more minimalist design around their old site. With integration of the "Metro" look, browsing between the site is seamless and is quite easy on the eyes. The borderless icons standing side by side makes things very organized.
The top left is your navigation bar. You can click Log in, Sign up or Game browser. When you are logged in, you will have a different set of buttons – your "profile," amount of money you have and the game browser. As you can see on the screenshot on the top, there appears to be a blank space below the top left menu. When you log in, you will see a live feed of player activities around the world – including you.
Casumo Player Profiles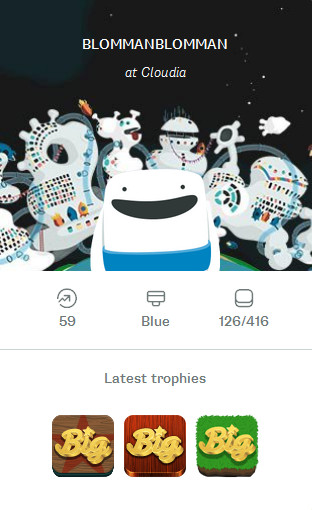 From this feed, you can actually click on the player names to check out their stats. Stats include the player's level, status, trophies and their progress to new trophies. The more you play, the higher your level will be. Achievements can be earned through playing, but you must unlock them by triggering certain events. For instance, I received a "Golden money box" on the Piggy Riches slot simply by winning 3 times in a row. If you are the type to go after achievements in games, there are over 400 achievement trophies you can earn. Many are quite difficult such as winning 10 times in a row – but it's definitely do-able.
Winning at Casumo Casino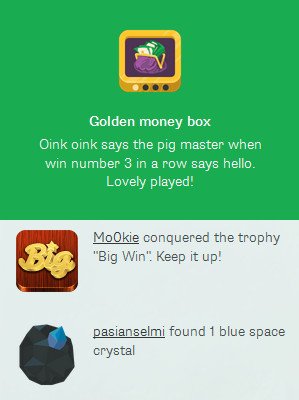 The feed not only shows achievements or trophies won by players, but also the amount of money they won and the slot they won from. For instance, the screenshot above shows what it looks like when you receive a trophy (the green area) while also showing you what it looks like when someone else received a trophy or received an item on the live player feed. Here's another example of how the feed works when players win money: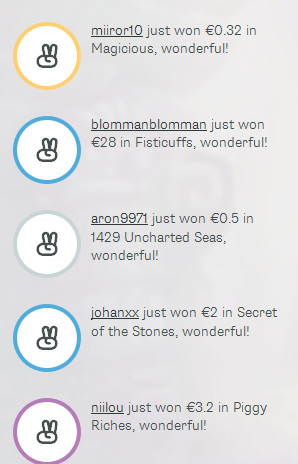 Note: You can also turn off this feature under your account settings if you do not wish to show up on the feed to the public.
Fullscreen mode
I mentioned earlier about the "Metro" look of Casumo, and to develop on it: they also added a full screen feature. So browsing the website isn't like loading a new page – your screen won't refresh, you won't see white flashes, but rather, you will have a really easy-going time navigating around the different pages of Casumo casino. The full screen mode plays quite a big role in making things "seamless" because it makes the entire experience at Casumo feel like you're running a game – you won't even realize you're on a website on your browser.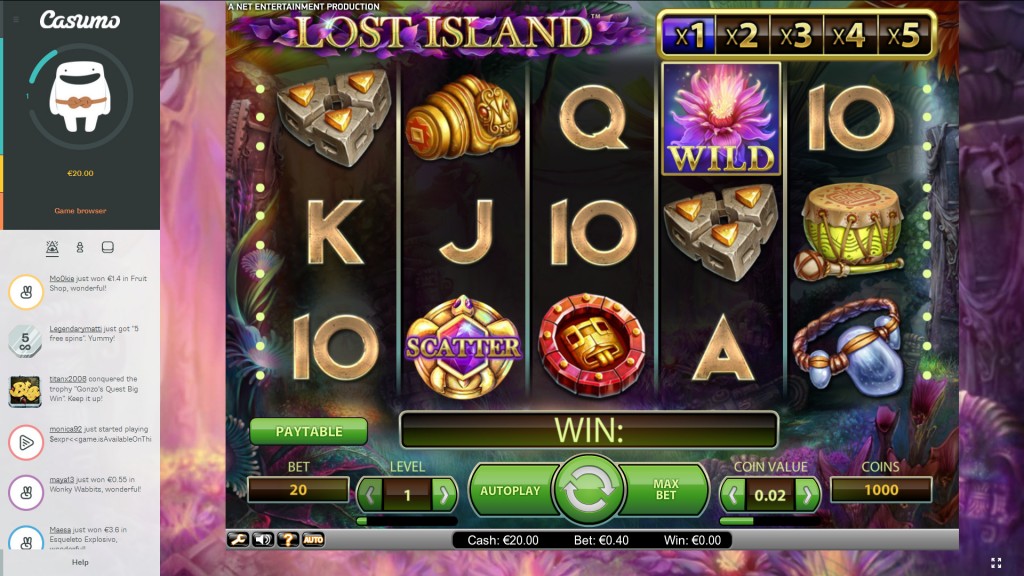 When you click on a menu or any button, the transition from one page to the next is so smooth that it just feels natural.
Coupons at Casumo
Casumo also has a coupons page where you can input a coupon code. Coupon codes are for their campaigns; for example, they can have a coupon code for free spins that can go under your account right away, or a deposit bonus code. All you have to do is paste in your coupon code in the field shown in the screenshot below:

Conclusion and My Experience at Casumo
The revamped design of Casumo is fluid and polished. I personally feel that this is a great move by Casumo to make the user experience more smooth. The full screen mode feels too good and the transition from one page to another is flawless. The live feed with profile integration adds a social aspect to playing, and the trophies give you a greater sense of accomplishment. Based on my time I spent at Casumo, I would definitely recommend it to other players.