This article is for 9 July – Make sure to find the LATEST Thrills 50 Days of Summer updates by clicking here.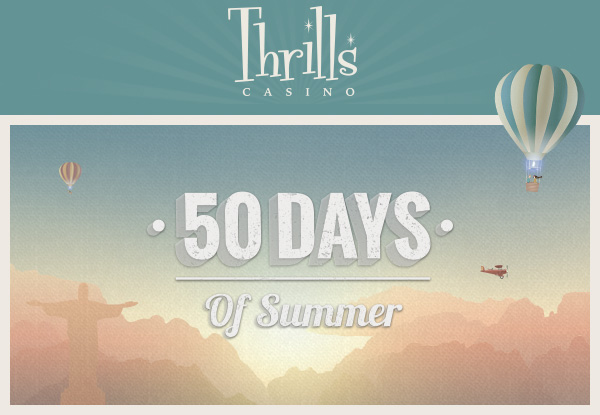 Thrills has been absolutely wonderful with their bonuses during the 50 days of summer.
Today is day 13 of the "50 Days of Summer" at Thrills casino. There are two things we would like to go over with you.
First things first, today's bonus:
Thrills Casino Bonus – Day 13 – Wednesday 9th of July
"Deposit and get Free spins"
Deposit €50 and you can look forward to 75 Free Spins in on either Jack and the Beanstalk or Gonzo's Quest that is credited the following day at 13:00 CET.
What does it mean?
It means you get an incredible amount of 75 free spins on either Jack and the Beanstalk or the very popular Gonzo's Quest at Thrills.com casino if you deposit a minimum of €50. I'd say this is an amazing deal as you get 75 free spins from only depositing €50! Not to mention Jack and the Beanstalk is one of the most fun games made by NetEnt and really provides great gameplay. Gonzo's Quest is a classic nowadays and is considered one of the most popular NetEnt slots.
Play at Thrills and enjoy the summer bonus by clicking here