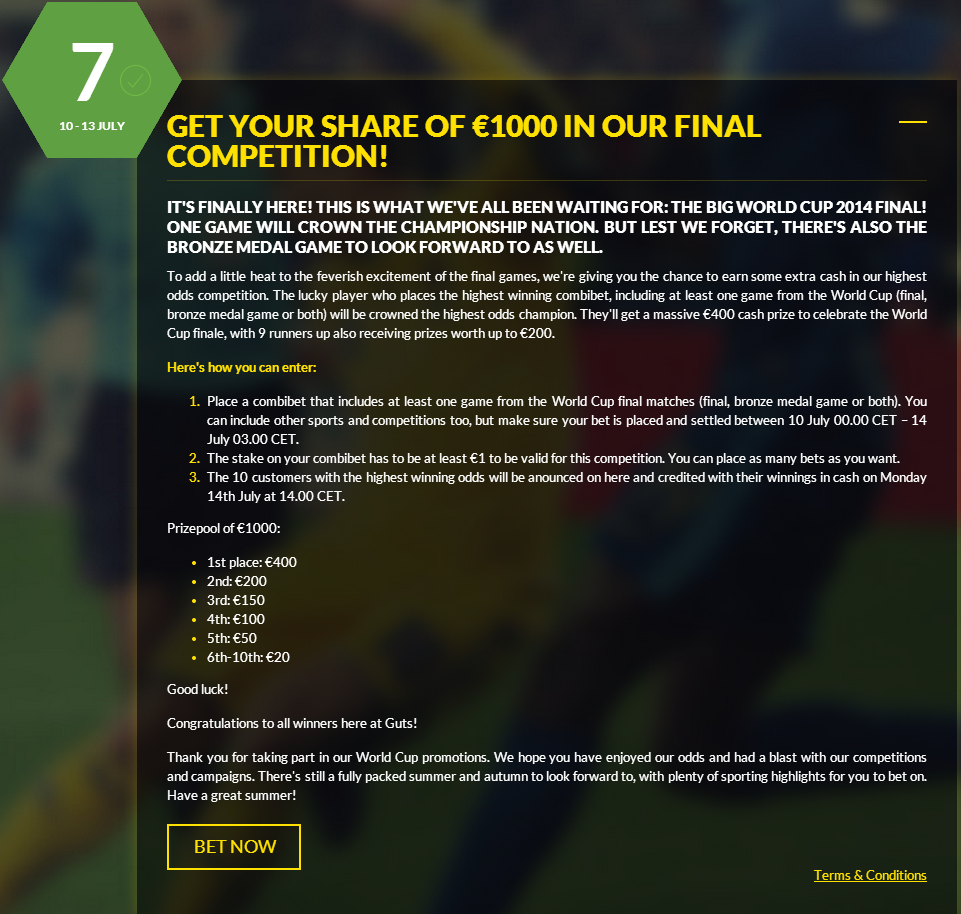 Guts.com is celebrating the Final match of the World Cup 2014 – the match we've all been waiting for.
Only one country will take the title of being the champion of the World Cup 2014. Who will it be?
The final competition Guts.com is offering has a prize pool of €1000 with the first place winner receiving a whopping €400 from it. Are you bold enough to claim the prize?
The rules for entering are simple:
1. Create an account at Guts.com
2. Place a combibet between 10 July 00:00 CET to 14 July 03:00 CET – and make sure at least one of the bets are from the World Cup final match. You may bet on other sports as well but at least ONE has to be on the World Cup 2014 finals match.
3. The minimum stake on your combibet has to be €1 or higher in order for you to enter the competition at Guts.com. You may bet as many times as you want, wherever you want (as long as it follows rule number 2)
The 10 boldest and smartest customers with the highest winning odds will receive the prizes. The prizes will be credited along with the players' winnings on Monday 14 July 2014 at 14:00 CET.
Ready to hear the prizepool distribution?
1st: €400
2nd: €200
3rd: €150
4th: €100
5th: €50
6th-10th: €20
This is Guts.com's last promotion of the World Cup 2014 event! Make sure to participate and claim your prize today.
Bet on Guts.com World Cup 2014 event now!