Last time, Guts.com initially offered a 1000 euro prizepool for their cool new "Ding!" program. This time, they're back with 500 euros.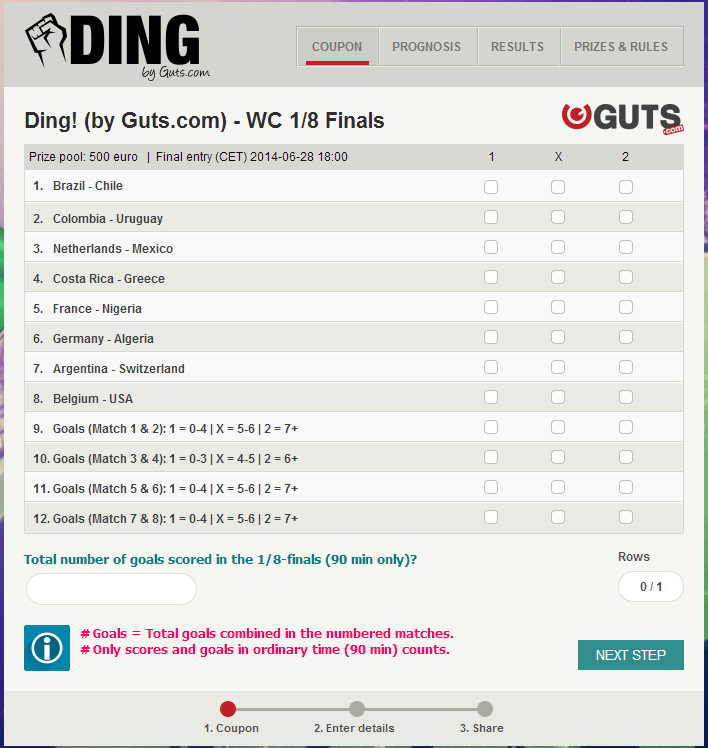 This new free event offers all Guts.com players to partake on a cool 1000 euro prizepool tournament. The rules of the game is quite simple.
You must:
Predict the outcome of 8 World Cup matches (1/8 Finals) and the amount of goals scored in select matches (1&2, 3&4, 5&6, 7&8). The player(s) with the closest calls will be the winner and will receive a grand total of 200 euros. The nine runners up will also receive some from the prizepool, so there are 10 winners in total. This isn't a bad deal at all considering it's a completely free event.
Some rules are in place:
You must bet at least 3 times on Guts Sportsbook with odds of 1.50 or higher.
OT/Penalties are not included.
Etc.
There are 9 rules in total – you should definitely read them in case you are wondering what the rules are and whether you are eligible to enter. Certain players from certain countries are not allowed to enter.