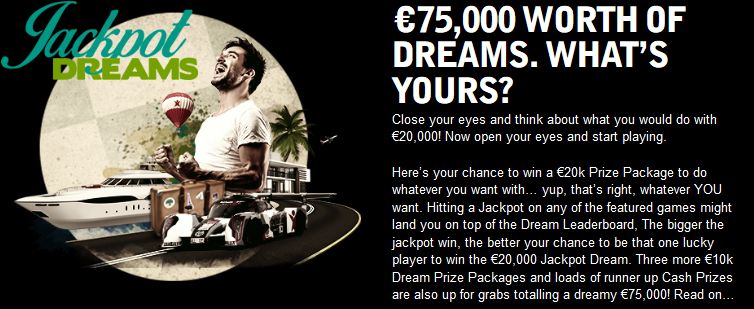 Betsafe.com is hosting a new event to celebrate the summer and boy, Betsafe has one hell of a promotion.
This event has a grand total prize pool of €75,000 – with the first place winner receiving €20,000. There are three additional winners with rewards of €10,000 in various "Dream Prize Packages" along with runner up cash prizes for the rest. A grand total of €75,000. The rules are fairly simple and is as follows:
Rules
1. You must register on Betsafe.com.
2. You must play on one of the featured games (Gem Drop, Mr.Toad, Piggy Bank, Jazz of New Orleans, Hunt for Gold, Cowboy Treasure, Ring the Bells, Oily Business and Monster Smash)
3. Hit one of the "Rapid Jackpots" (Tasty, Luxury, or Dream Chance)
4. Stay on the "Dream Leaderboard" (The highest scoring winners of jackpots will go on the leaderboard – the current one being Samuel R with €84,413. If he wins the event, he will receive €84,413 and the grand prize of €20,000, making his winnings a grand total of €104,413) and stay on the leaderboard until July 13, 2014.
Prizes
You can do anything you want with your winnings. Let's say you are the winner and you receive a bonus of €20,000. You can take the money in cash or you can ask Betsafe to make your €20K dream come true. Whether you want to go to the Bahamas or ride a supercar, the choice is entirely up to you.